Welcome to an entire new series where'in ll try to upload all our different play activities that we carried out at as a part of our Home Schooling journey. The topics are curated as a 10 month Curriculum. You can download them for free as Monthly Curriculum for Preschoolers from the free printable section in the website.
Listing the activities below,
Dinosaur Learning pack by
MontessoriNature
papaslon.shop
Maths-
Abacus Kit
Maths Starter kit
DiY Spindle Box
Cognitive-
Dino Sudoku puzzle
Dino Foam puzzle
DiY Dino bones puzzle
Literacy-
3-4 word Learning Kit
Phonic kit
Wooden alpha blocks
DiY Capital/small letter matching
Sensory-
Frozen Dino eggs
Stereognosis bag
Fine Motor-
Pin poking work – Dinos outline
Arabi alphabet lacing
Stem-
Dino Life Cycle Activities
Herbivore/ Carnivore Dinos
Music- 
Montessori DiY Sound Boxes
Sound game
Arts –
Qtip Dino drawing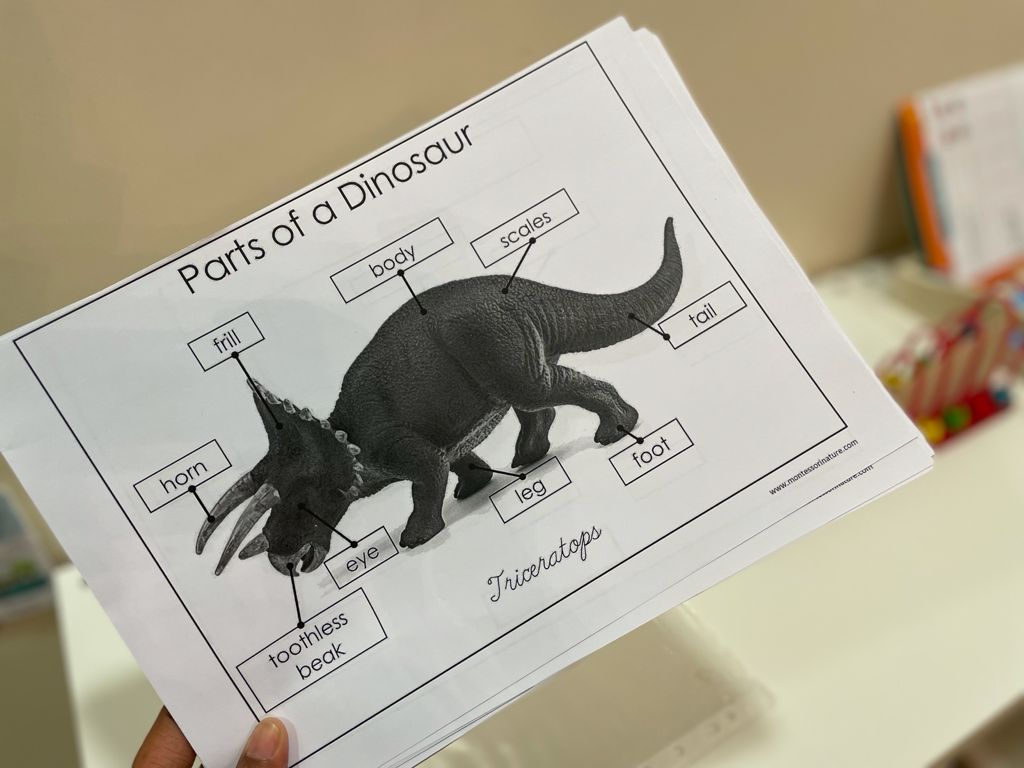 Most of our activities can be easily DIY'd, and you can find detailed description below & you can also find respective toys & books in Our Amazon Storefront.
If you are a YouTube Person we got you covered, Here is a Video Shelf Tour of our Dino Theme Activities,
https://www.youtube.com/watch?v=TCcnzbeidAY
Dino DiY Puzzle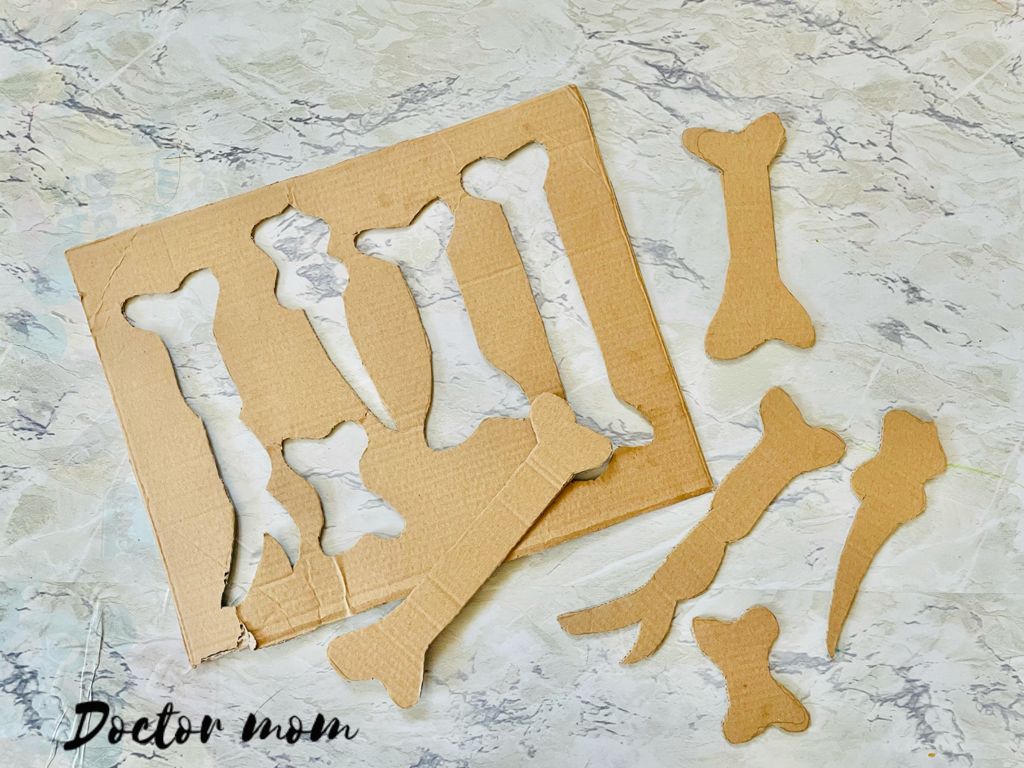 A simple DiY with cardboard & few bones outline – we worked as
⦁ a puzzle addressing  cognition,
⦁ we measured the bones, a maths activity, & laid bones from short to tall & vice versa and so on,
⦁ we named the various bones of body & tried to learn those name & function of them.
⦁ trying to compare the skeletons of various dinos.
Both the foam puzzle (shop bought) & these were the most worked upon tray for the week!
Dino Pin Poking fine motor activity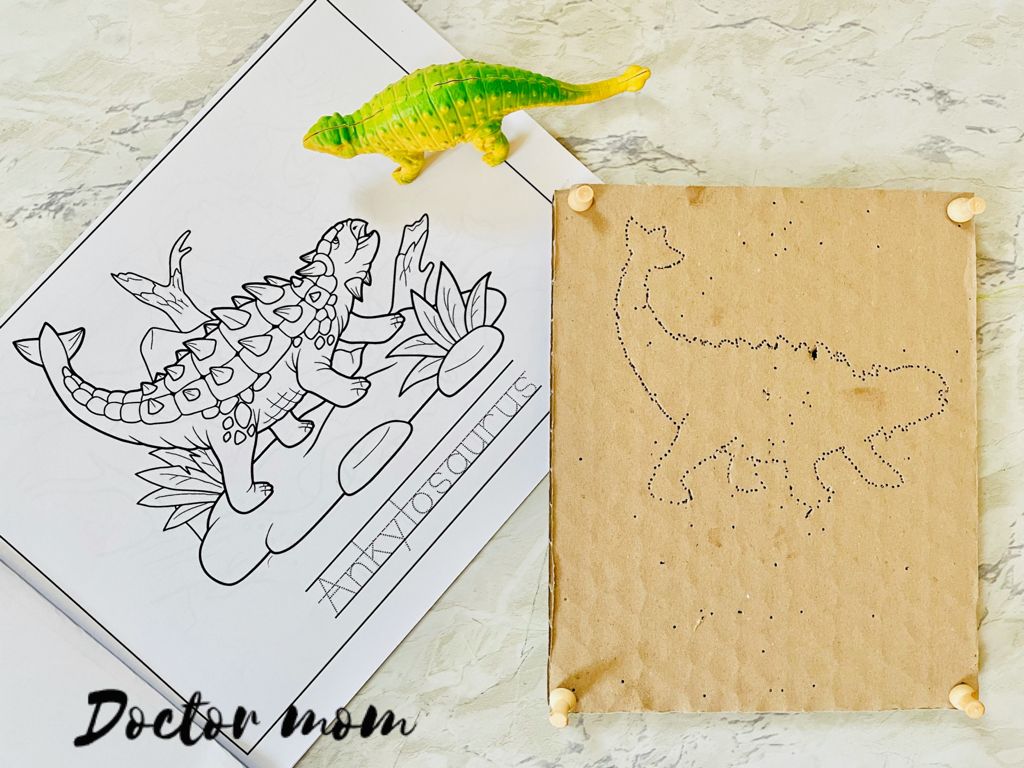 Every time I post a story of Ahyan writing, my DM's start flooding, of all the possible questions! I would like to just say this repeatedly, writing doesn't happen over night, it's a process, it's a journey, a long one.
We started with lot of prewriting activities & games to fine tune our grasps & now finally we can see the results.
One such activity is the Pin Poking work, which you would find in a Montessori classroom, it's a very low prep set up at home too with just a thick board/ wooden slate/ and few pins to go on with. All you need are few printouts of shapes, lines etc whatever the child is interested in to get start going & model them to pin poke.
Believe me when I say they love the work , and can spend ample time doing this. In our Dino unit studies we used printouts of the Dinos, & Ahyan traced the outlines via pin poking & we later cut them & colored , painted a few.
Skills :
Fine motor
Pincer grasp
Concentration
Prewriting
Q tip Dino Bones Reconstruction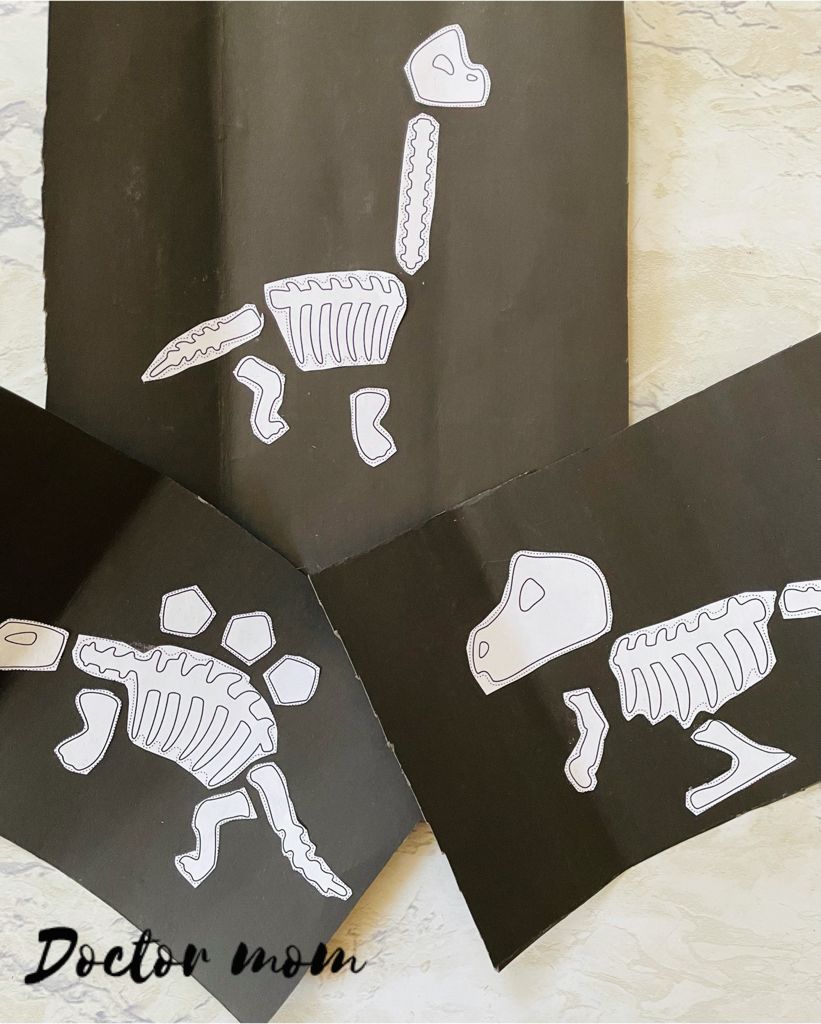 Another extension of our bones activity, this is another simple set up, requiring following,
Q tips- broken down to different sizes
Black chart paper
White crayons
We used Dino printouts from the unit bundles to cut & make the silhouette skeleton on black chart paper.
Also used the cut Q tips as an alternative to the printouts to form the framework skeleton of Dino.
Both the activities were super hit, needless to say they enjoy cut paste work & this was super fun to try out.
We talked various bones, physiology, long forgotten Dinos stories & what not. Overall a great experience to build on language, fine motor , & concentration to work & complete the task!
We had a huge collection of Books to go through & would make a post & resources of them sometime,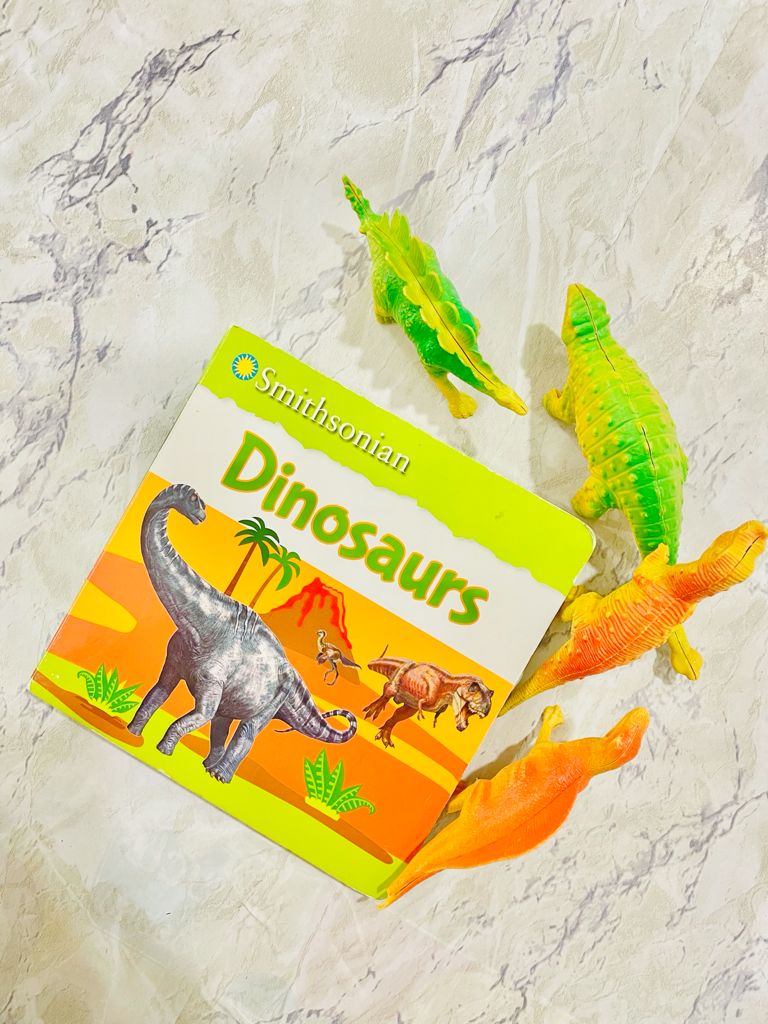 Do Follow us on our other Social Media Handles to follow along our Curriculum, & stay updated of all the activities that we try along,
Thank You for Stopping By, it means a lot that you could take time to read our Homeschooling Journey. Do Subscribe to Our Newsletter to get Freebies delivered to Your inbox monthly.
Much Love,
Doctormom