Alhamdullilah and Welcome back to our Islamic Home Schooling series. I hope you found our previous post useful and If you haven't yet given it a read then have a look here by clicking here
Thanks for all the amazing responses and what makes me more glad is that you people are trying out these DIY's and taking it to a whole new level to suit your kids and their interest. This gives me great joy like Mission Accomplished. If I'm able to make a difference in your homeschooling environment it's all that I want and I'm striving for! Today's post is about the Second Alphabet in the Arabic Language
Baa – Duck – Bata, Pond – Barakat, Owl – Bawma.
These are very basic vocabulary building guide for kids, something a 3-4 year old kid can easily grasp. Here are some activities that you can try to teach them the above words.
Duck – Bata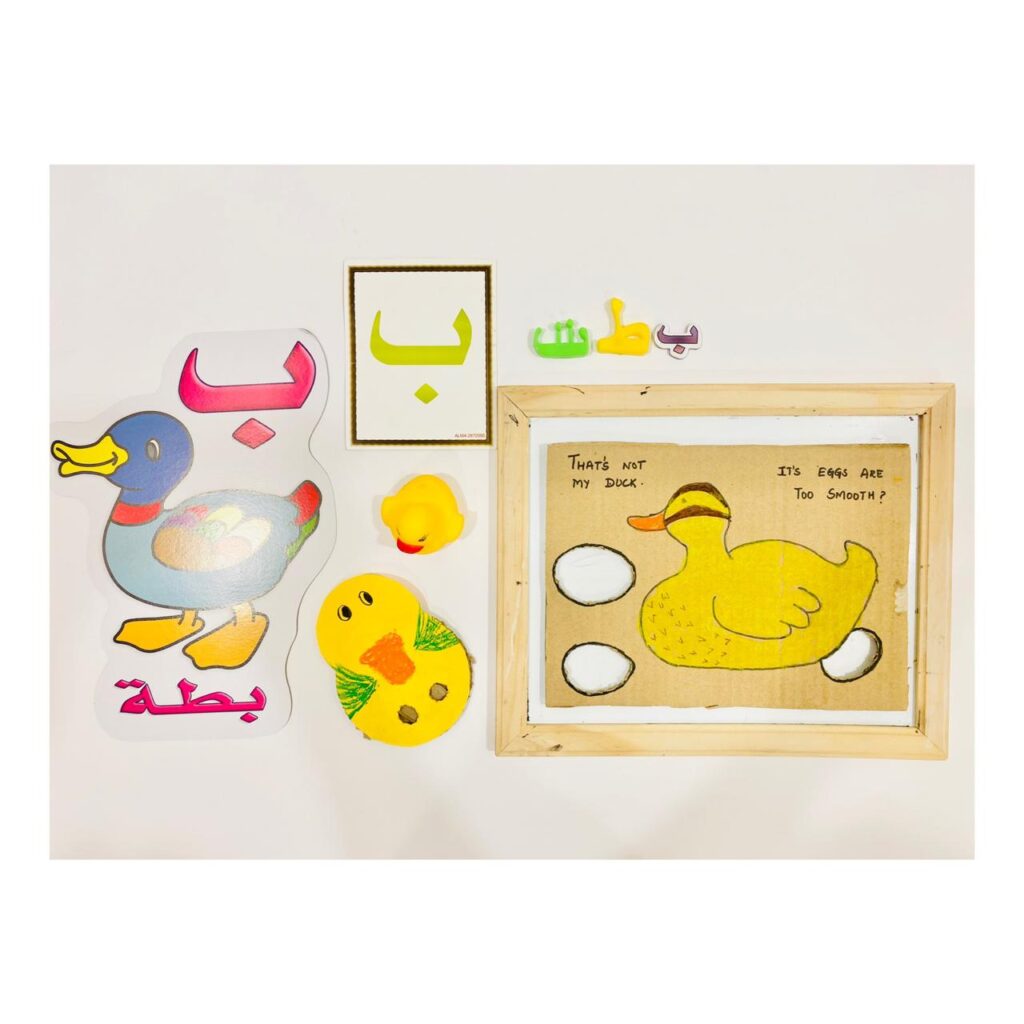 Firstly we made a duck finger puppet to compliment with our other duck toys at home and used it while reading stories, this simple cardboard colorful ducks are all that you need to take the story telling session to the next level. Filled with so much fun and interaction story telling with finger puppets make reading experience a whole new one.
Secondly we used a cardboard to draw out a duck and cut out the egg portions of it, trying to replicate the ever famous Usborne Series of 'That's not my' Duck! We used this board as a game to rediscover vocabulary by using the board at different places and say that's not my duck it's eggs are smooth, rough, white , black etc etc. If you know this book you know what I'm talking!
Pond – Barakat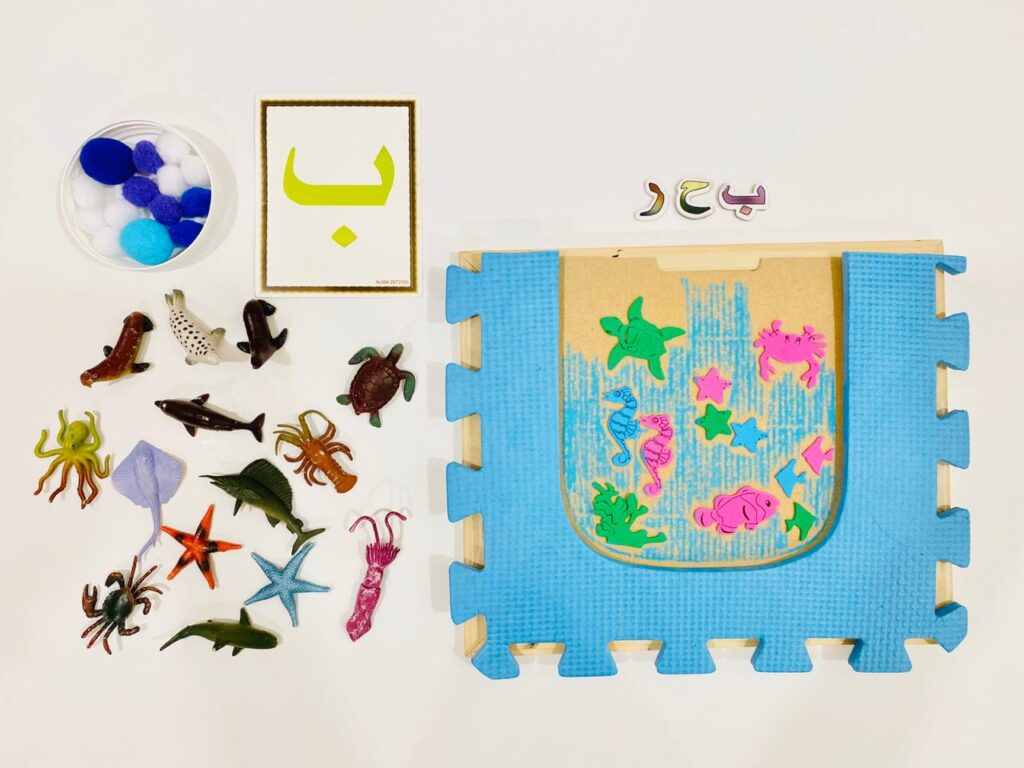 Firstly we used a cardboard and blue foam to cut outlines of the pond and recreated a pond atmosphere with the pond animals and plants. A whole new hands on experience for Pond Unit Study. For older kids you can do detailed studying for each animal too.
Secondly we set up a plate with Pom Pom balls to replicate to pond environment.
Owl – Bawma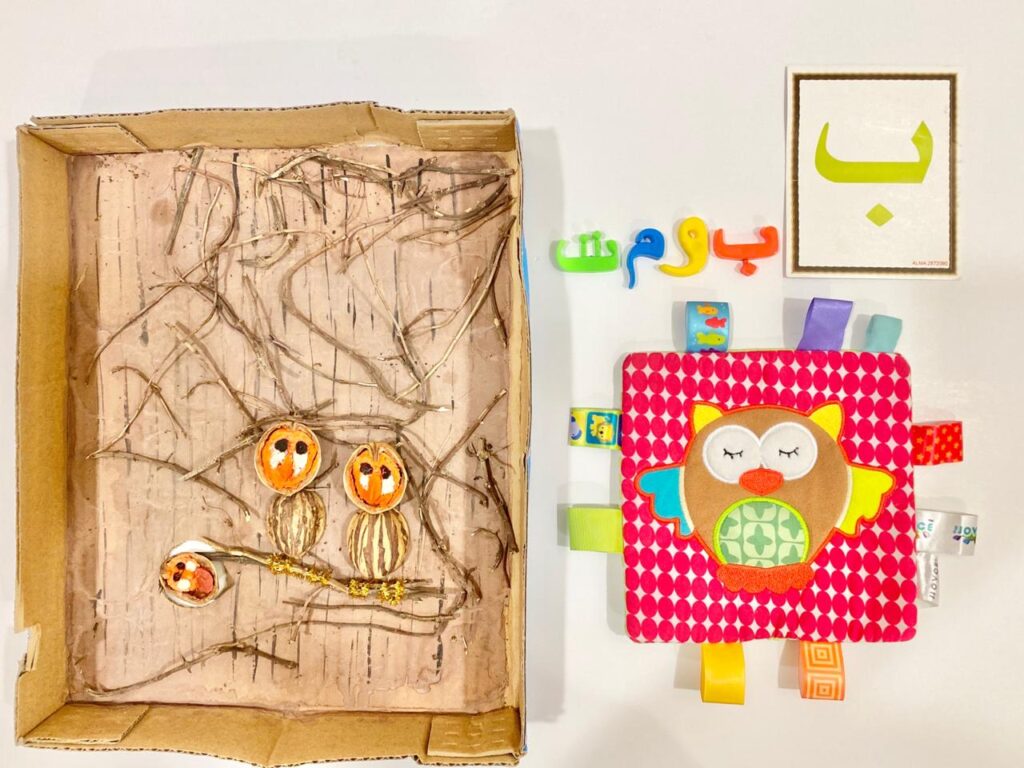 Firstly we used walnut and colored them as owls and used clay to figurine them. Used some twigs to set up like a tree and the owls seated on the branches. This whole setup in a box. A sensory twist to this learning got the kid so much involved as you all know paints and clay both are kid's favorite!
Secondly we had few cloth books on these lines and used to read them to reignite the interest!
I hope you are enjoying this series as I'm looking forward for your beautiful set ups.
Tag me on Instagram to get featured. dr_malihasaman
And Welcome once again to this beautiful journey of Arabic Letters learning. Let me know in the comments what have you tried with your kids, and I will add up your ideas on our future posts!
May Allah be pleased with all our actions and deeds. Ameen.
Much Love,
Sama
Ps: You can find links to all these materials on our Amazon StoreFront under Arts & Crafts Essentials!